In Ukraine, FSD is implementing mine action operations with demining and risk education for the population close to the contact line. In addition, FSD is rehabilitating schools and kindergartens damaged during the conflict.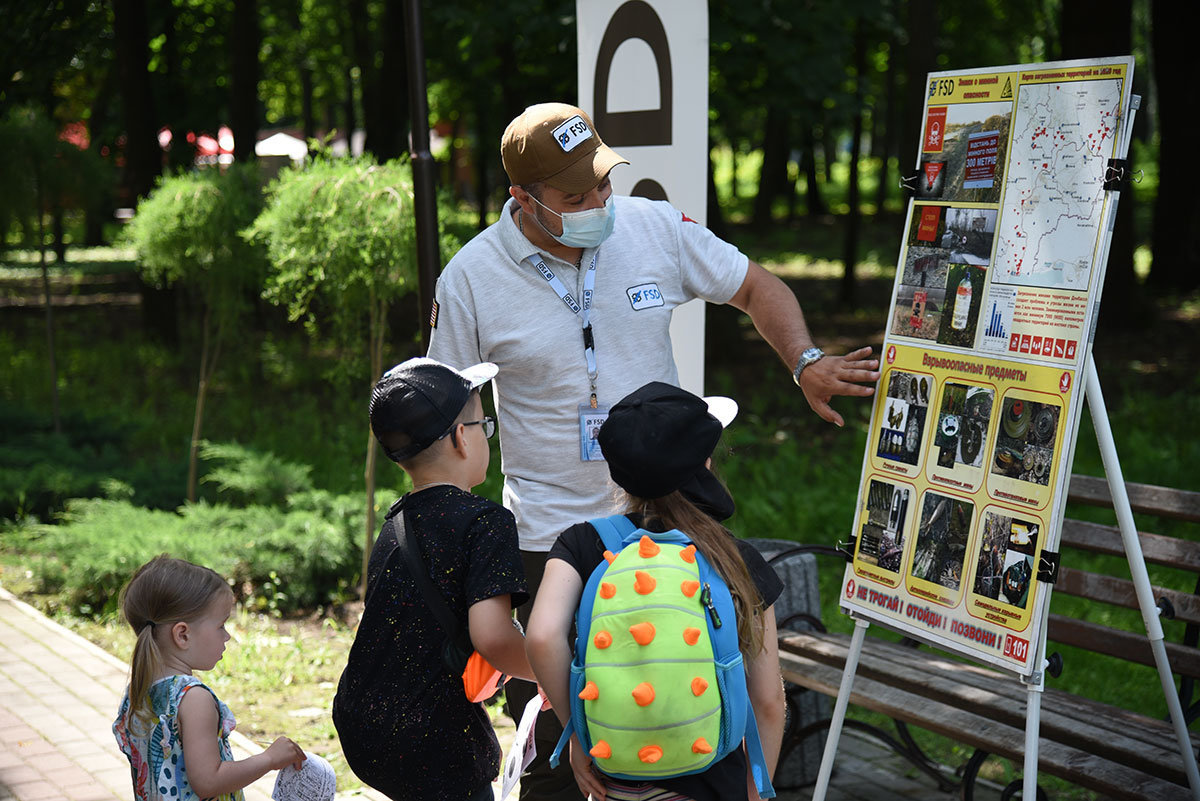 Mine risk education is an essential activity to prevent accidents, especially for the youngest. (Ukraine, 2021)
In 2014, an armed conflict erupted in the east of the country. The Donbass region (the Luhansk and Donetsk provinces) is now defacto divided by a "contact line", which separates the area under Ukrainian government control from that administered by separatists. While the fighting has subsided into a relatively static, low intensity conflict, the villages and fields along the front line remain littered with mines and unexploded ordnance. Residents, whose quality of life has reduced significantly with the conflict, live under the daily threat of an accidental explosion or from sporadic artillery or mortar fire.
In 2019, more than 300 people were injured or killed in such accidents. The fighting also caused extensive destruction to the country's infrastructure, including many schools and kindergartens, reducing access to education for young Ukrainians living along the contact line.
‍
"As long as the school is open, our village survives."
Explosive ordnance risk education
FSD teams work in villages along the contact line in Eastern Ukraine to educate community members, especially the youngest and the elderly, of the dangers of landmines and unexploded ordnance. More than 160,000 children now know what to do if they are confronted with a grenade or an antipersonnel landmine.
FSD's involvement in Ukraine dates back to early 2015. The initial aim was to reduce the number of civilian casualties as much as possible by teaching residents how to behave safely in areas contaminated by mines and unexploded ordnance. Today, in order to bring risk awareness to even more people, FSD is also rolling out online campaigns through social media.
In 2017, FSD commenced a demining program to locate and destroy mines and unexploded ordnance. Almost 5 million square meters of land have been surveyed and cleared to date and can now be used safely by the population. This has enabled the resumption of agricultural activities and access to infrastructure in these areas.
‍
At the end of 2019, a new project was launched, aimed at strengthening access to education in the conflict area. While visiting schools and kindergartens during mine risk awareness missions, FSD staff witnessed the extent of the destructionof schools' infrastructure and the devastating impact of the conflict on the daily lives of children. Following a special appeal for donations, FSD was able to conduct a needs assessment in schools along the contact line and is taking steps to rebuild and refurbish damaged schools.
In 2020, our deminers cleared 3.2 km² , an area equivalent to the City of London. This work requires constant concentration despite the sometimes extreme working conditions. Do you have any questions about our work on the field, about fundraising or about how your donations are used?
Our team is at your disposal.
Click on the button below to get answers to the most frequently asked questions.
Please contact us if you cannot find what you are looking for.
FSD, it's them.
Every day, they put their courage and expertise to work to make the world a safer place. Read the testimonials and stories from our employees around the world.
Demining is a technical and time-consuming task that requires a sustained commitment over time. Want to help make the world a safer place?
Join our 7000 private donors!
Our humanitarian programs focus on four main areas. 
FSD locates and clears mines and unexploded ordnance, provides explosive ordnance risk education and assists survivors of accidental explosions.
FSD supports ongoing peace processes in various countries and provides socio-economic support to communities.
FSD remediates sites contaminated by toxic substances from the past, including obsolete pesticide stocks and mining waste.
FSD collaborates on research & innovation projects aiming to use new technologies, such as drones, in mine action.