Since 2017, FSD supports the Chadian authorities in the development and implementation of a demining strategy. In the country, FSD's experts act in a consortium project in partnership with three other NGOs.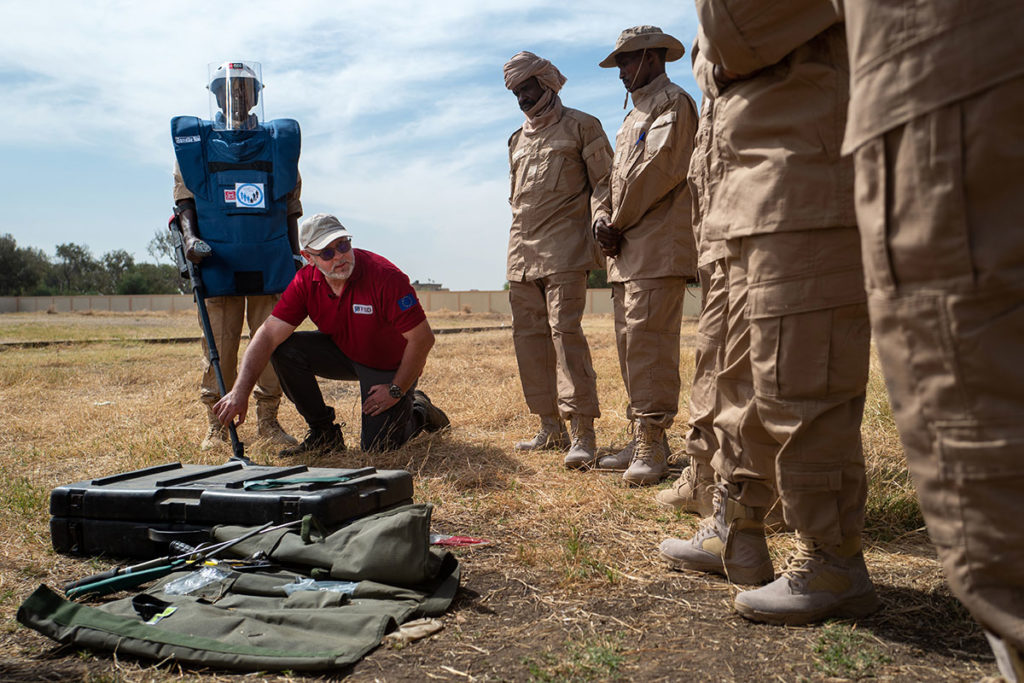 Olivier Shu, FSD technical advisor, provides training to the local Rapid Response Unit (Chad, 2021) ©Gwenn Dubourthoumieu
Chad is one of the countries most affected by mines and explosive remnants of war in sub-Saharan Africa.
A contamination generated mainly from the conflict with Libya between 1978 and 1987 and from several civil wars which within the country.
To date, more than 3,250 people have been injured or killed in an accidental explosion.
Nomadic communities and camel herders are particularly threatened, risking their lives when they have to cross contaminated areas.‍
Thanks to FSD's expertise, the Chadian mine action authority has been able to consolidate years of survey reports and improve the efficiency of demining operations.
Mr Hassan Oumar Mahamat
Head of IMSMA, HCND Chad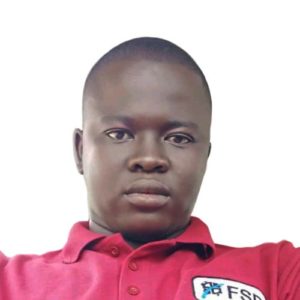 In 2017, in order to support the development of the mine action sector in Chad, the European Union implemented a consortium project involving four NGOs: the local organisation SECADEV, which provides assistance to mine victims; the NGOs Mine Advisory Group (MAG) and Humanity & Inclusion (HI), which are responsible for mine clearance and mine risk education; and FSD, whose mission is to strengthen the capacities of the Chadian government in the coordination and management of mine action.
FSD's expertise is used to strengthen the following areas: planning and prioritization of demining operations by HI and MAG, support to information management and database control, compliance with Ottawa Treaty obligations, and mentoring and training of the national authority in good practice, human resources, administration, finance and operations management.
CENTIMETRE after CENTIMETRE
In 2021, our deminers have cleared 8.5 km², an area equivalent to half of Geneva. This work requires constant concentration despite the sometimes extreme working conditions.
In Chad, more than 3,000 people have been killed or maimed by accidental explosions over the past 10 years. In order to tackle this scourge, FSD is working in partnership with three NGOs: HI, MAG and SECADEV. […]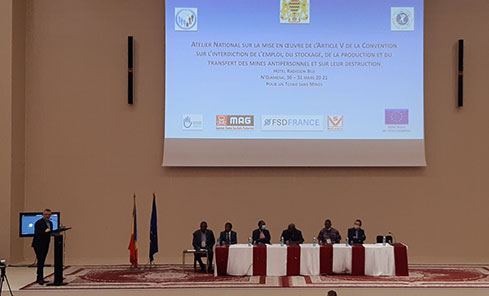 Have you heard of the Ottawa Treaty? The states which have ratified it undertake to no longer produce, acquire, use and stockpile antipersonnel mines. They also undertake to clear all contaminated areas on their territory within 10 years […]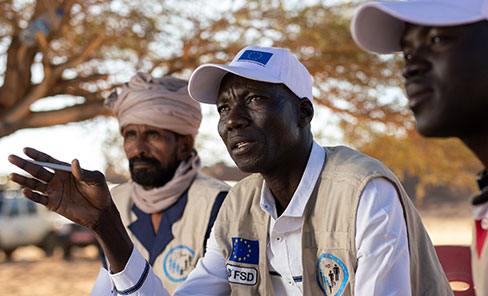 Amadou Bouba Gong-Daba, assistant coordinator, and his team are in Ennedi province, northern Chad. These employees of the Haut Commissariat national au déminage (HCND) […]
Our humanitarian programmes focus on four main areas.

FSD locates and clears mines and unexploded ordnance, provides explosive ordnance risk education and assists survivors of accidental explosions.

FSD supports ongoing peace processes in various countries and provides socio-economic support to communities.

FSD remediates sites contaminated by toxic pollutants inherited from the past and act to promote biodiversity and resilience to face climate change. 

FSD collaborates on research projects aiming to put new technologies, such as drones, at the service of mine action.
Where is FSD currently working in Ukraine? What does a landmine look like? Answers to your questions, once a month.
News from the field
Demining videos
Interviews of experts
Events
Job offers