20 March 2022
While in many European countries it's the beginning of Spring, the weather in Ukraine remains severe with strong winds and temperatures below zero. Yulia Katelik (on the right) helps people equip basements in highly populated areas. She found a place to buy 20 blankets. Her team brought the blankets to the shelter.
"I probably stay at home today, Yulia told us on a team call. One of the buildings in the area where I live was targeted. Six people were killed and 30 were injured. So, I will probably stay at home today. But tomorrow, if the fighting is not so close, I will go the local market and buy some electric cables. In this shelter, which is close to a kindergarten, one of the FSD team members (a former electrician) will arrange working light. It's so scary for children to sit in a cold shelter without any light".
20 March 2022
Local schools in the East were transformed in centres to welcome displaced people. The beds/matresses are on the floor of the gym. People come here trying to find a shelter for one night or even longer before they head further west.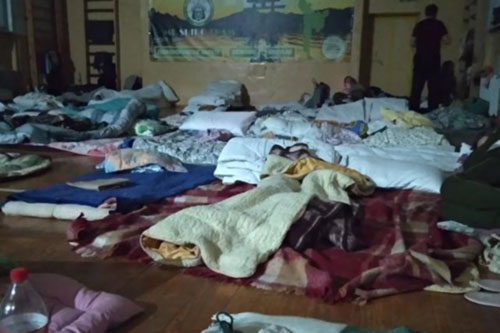 20 March 2022
FSD bought and delivered 114 kg of onion and 330 kg of potato, along with oil, tea, pasta, canned fish and other food so the canteens are able to provide hot meals.
Prior the war, the key source of medical supplies and medicine to Sloviansk and Kramatorsk area was Kharkiv. As Kharkiv is under the attacks since the first day of the war, the supply of pills was significantly reduced.
For certain categories of people, especially elderly ones, taking pills is a daily need. FSD arranges the logistics for medical supplies to IDPs and elderly persons through our own staff located in Dnipro. From Dnipro, the medical supplies for disabled persons, elderly ones with heart problems, blood pressure issues, thyroid disease and some other are delivered to Sloviansk, where our staff members distribute them. At the moment, the road from Dnipro remains the only way to deliver important supply to the citizens by car.
FSD is in consultations with the Ukrainian railway company and intends to deliver medical supplies from Europe and/or the West of the country to the East by the trains that are still coming to evacuate the citizens from the affected areas.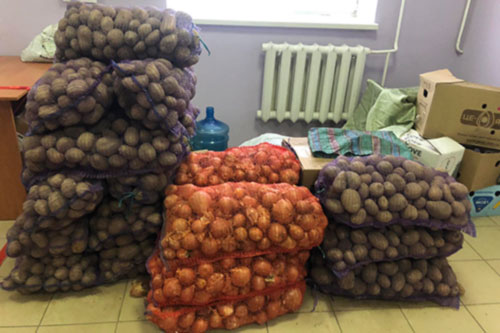 19 March 2022
As the hostilities are ongoing, more and more people are internally displaced around the country. FSD staff is providing assistance in Svyatogorsk. Prior the war, Svyatogorsk area was used as a place for holidays and recreation. Many resorts with cottage house are located there surrounded by forests. One of the resorts was given to IDPs from Izium.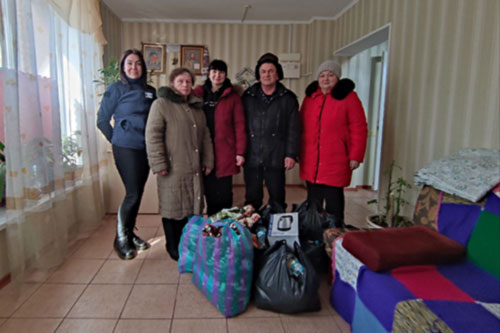 18 March 2022
The resort which is currently used was not designed for living. It was designed for summer holidays. So, people cook food on the fire, collect wood in the local forest. The availability of food is very limited at local shops. FSD provided food for IDPs, some warm blankets, underwear, hygiene and electric devices. Every day FSD get requests from hundreds of persons for various emergency support.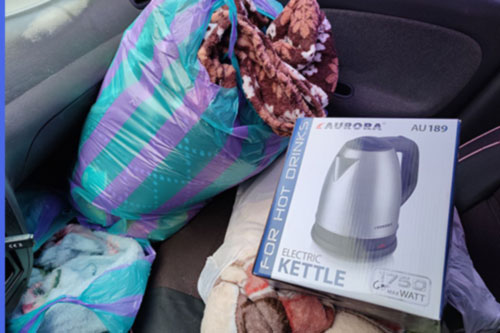 17 March 2022
This room is a refurbished basement which was used as a sound recording studio. The owner of the studio allowed to use it as a shelter for children in Sloviansk. As FSD used to deploy demining teams in remote locations, we were able to provide camp beds from our own logistics. Eight camp beds, pillows, blankets and two heaters were donated to arrange the shelter for kids in this sound recording studio.