The following privacy policy explains what information is collected when you access and use our website, how we use the information collected and the level of security we maintain to protect these information.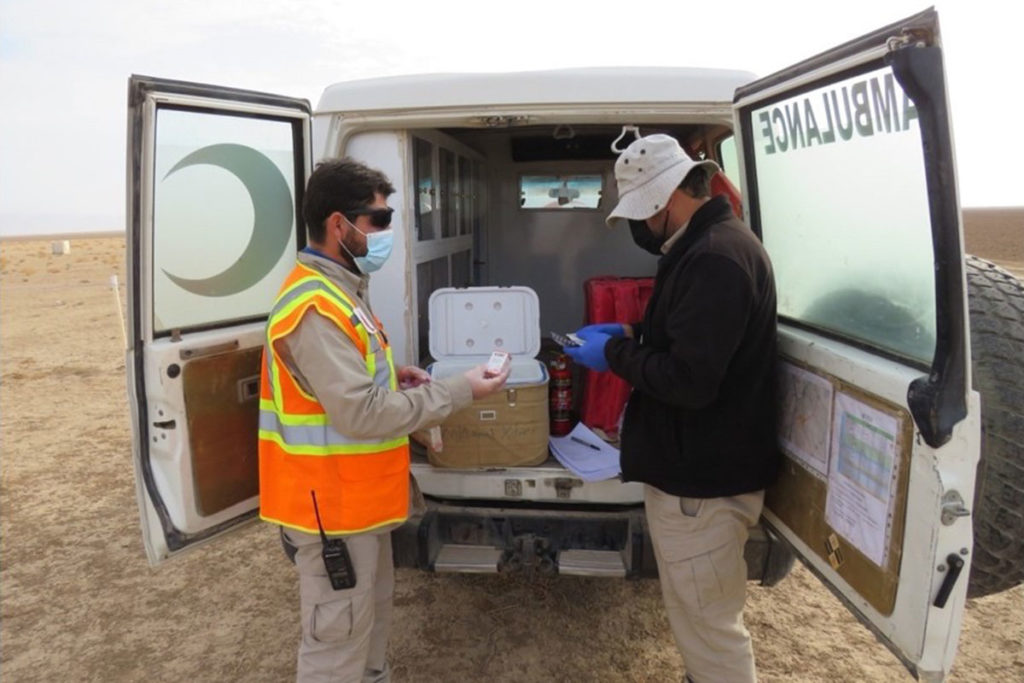 A medic specifically trained in emergency response to accidental explosions, as well as an ambulance, are part of each demining team (Iraq, 2021)
This privacy policy explains
Which information is collected when you access and use the Internet pages accessible at www.fsd.ch (the "Platform"), how we use the information collected, and the level of security we provide to protect this information.
By accessing and using the Platform, you accept this Confidentiality Policy. The policy may be modified at any time to take into account new commercial or technological practices or legislative modifications.
By accessing and using our Platform, you agree to this Privacy Policy.
This policy may be changed at any time to reflect new commercial or technological practices or legislative changes.
We collect data in connection with your access to and use of the Platform. In particular, we may collect personal data such as your name, gender, date of birth, address, payment information, email address,
your language preferences, occupation and any other information that may be used to identify or contact you in connection with your access to and use of the Platform ("Personal Data").
Data collected and transmitted are used for the purposes mentioned at the time of collection, which include performing activities and furthering our humanitarian goals.
In particular, we use these data to communicate targeted information concerning our activities, financial support (including support for our projects and actions) and subscriptions to our newsletter.
The Platform may contain links or references to third-party websites, including websites for local delegations that are managed and supervised by these local delegations.
This Confidentiality Policy does not apply to these third-party websites or to the practices of other companies or individuals that FSD does not control.
You should inform yourself about and review the privacy policies of any third party websites you visit, as these policies govern the collection and use of your personal data when you visit such websites.
Subject to legal limitations, FSD is not responsible for the privacy practices of third party websites.
Communication to third parties
We do not communicate your Personal Data to third parties, except to our partners and/or subcontractors when this is necessary to perform the goals for which data were collected.
For example, when you make a donation for our financial support, your payment information is only transmitted to the company that is subcontracted to manage and cash your donation.
International transmission
Your personal data is processed in Switzerland but may also be stored and used in other countries. It should be noted that these locations may include countries that do not guarantee the same level of personal data protection as Switzerland.
By submitting this data to us, you accept this transfer.
To improve the uses and features of our Services, we use "cookies" or other beacons that may automatically save Personal Data. A cookie is a small data file that is saved on your electronic device. When you access and use the Platform, the cookie identifies your electronic device. We also use cookies to measure the Platform's traffic, use and features.
If you do not want cookies to be saved on your electronic device, you must configure your Internet browser or electronic device to refuse cookies before using the Platform. If you do not do so, you consent to the collection and processing of the data collected. This may affect or prevent your use of the Platform or some of its features.
We may modify this Confidentiality Policy at any time. By accessing and using the Platform after these modifications, you accept the modified Confidentiality Policy.
The Confidentiality Policy in force when data is collected and used governs the collection and use of this data.
Right of access and modification
Unless otherwise required by law, we will provide you with a summary of data collected and processed on request.
Subject to any contrary legal provisions, you will be given the opportunity to correct, update, modify or delete this information by sending a request by e-mail to info@fsd.ch.
Applicable law and place of jurisdiction
This Confidentiality Policy is subject to Swiss substantive law, except its conflict-of-law rules. Any complaint, claim or dispute must be filed with the competent courts for FSD's head offices, subject to any appeal filed with the Swiss Federal Supreme Court.
Any questions, comments or suggestions? We are pleased to answer.