FSD is a non-governmental humanitarian organisation founded in 1997 and based in Geneva. Our core profession is mine action but we are also active in other humanitarian sectors.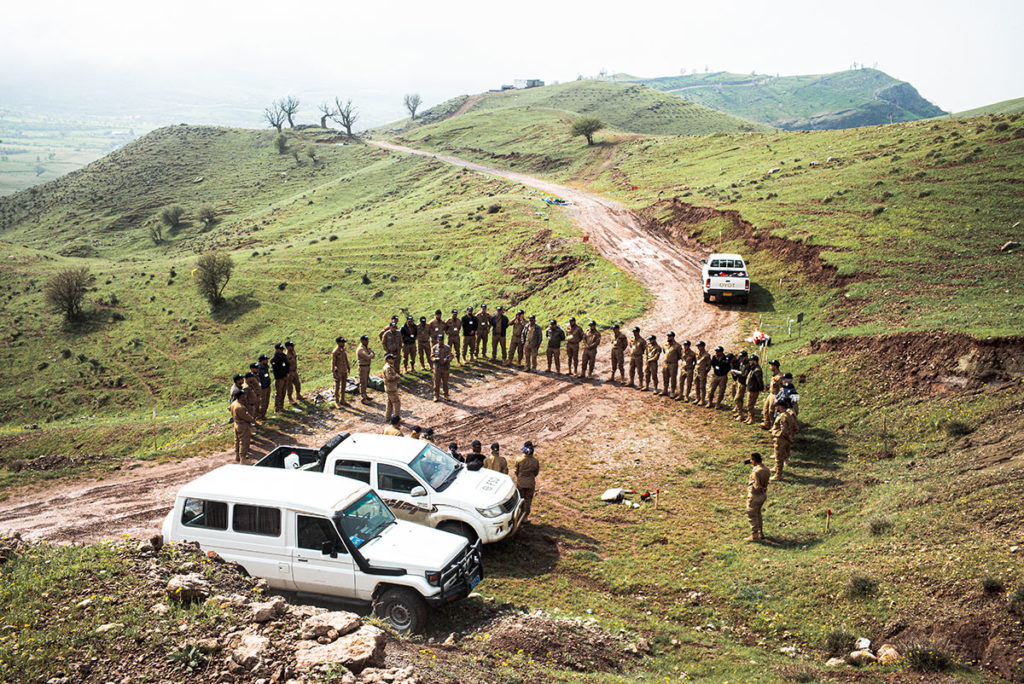 Our 489 collaborators are now deployed in eight countries on four continents. Here, several demining teams are briefed before going to the minefield (Iraq, 2018)
FSD's activities and management is entrusted to committed and highly qualified staff. Meet our collaborators!
Independence, neutrality, impartiality. As a humanitarian NGO, FSD places these values ​​at the centre of its activities. Discover our engagements. FSD launched its first project in Bosnia and Herzegovina in 1998. Since then, our deminers have destroyed near 1.4 million landmines and other explosive devices.
FSD receives public and private funding to implement its projects. The budget is carefully planned to maximize the usefulness of each franc received.
Our annual reports include a detailed description of our activities as well as our financial reports in their entirety.

The FSD group includes FSD (Fondation suisse de déminage), it's affiliated entity l'association FSD France and it's commercial subsidiary Crosstech S.A.
Our humanitarian programmes focus on four main areas.

FSD locates and clears mines and unexploded ordnance, provides explosive ordnance risk education and assists survivors of accidental explosions.

FSD supports ongoing peace processes in various countries and provides socio-economic support to communities.

FSD remediates sites contaminated by toxic pollutants inherited from the past and act to promote biodiversity and resilience to face climate change. 

FSD collaborates on research projects aiming to put new technologies, such as drones, at the service of mine action.
You have questions about our humanitarian actions, about fundraising or about any other subject? Our team is happy to answer.
Click below to find the answers to the most frequently asked questions. Please contact us if you cannot find what you are looking for.