In Tajikistan, FSD destroys stockpiles of obsolete weapons and ammunition, remediates areas contaminated with toxic pollutants and promotes resilience against climate change.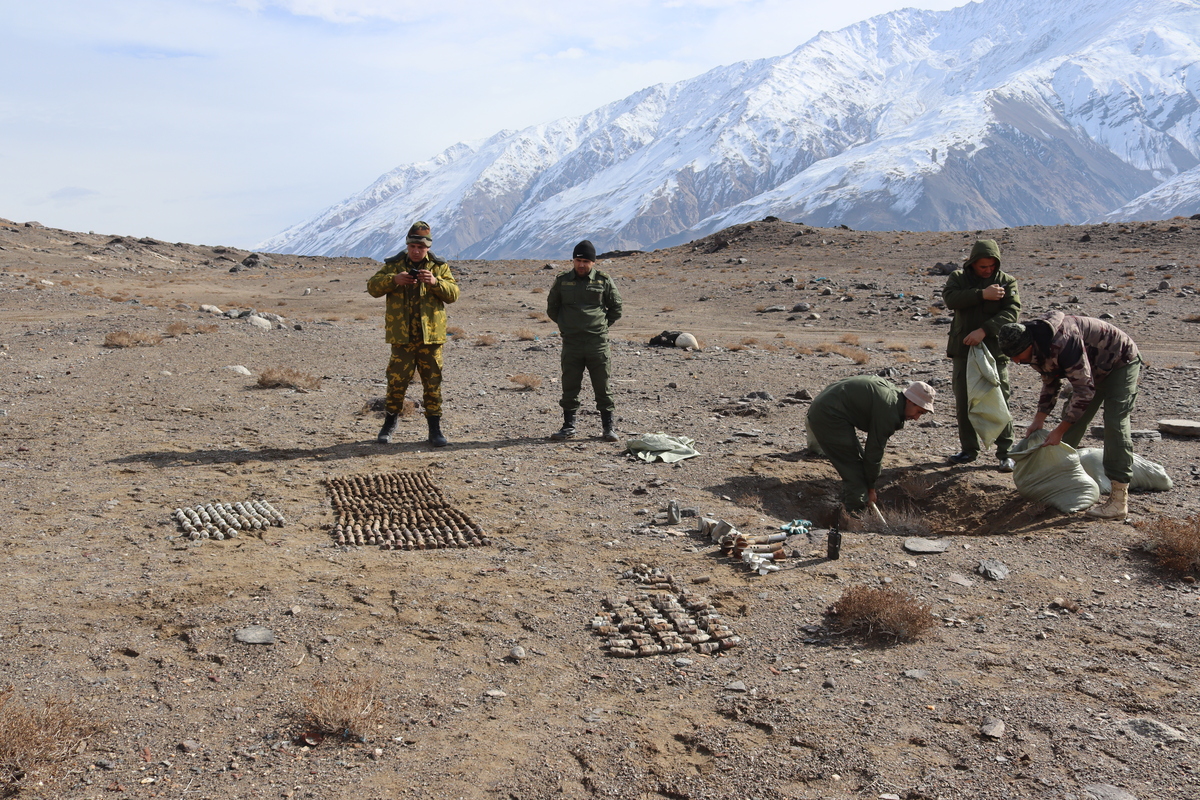 An FSD team is preparing the destruction of abandoned and unexploded ordnance collected along the Tajik-Afghan border. (Tajikistan, 2022)
In 1991, following the collapse of the Soviet Union, Tajikistan, alongside several former Soviet States, declared its independence. At the time, numerous stockpiles of weapons and ammunition were stored throughout the country. Today, a large portion of the weapons remains in the country in poor storage conditions. They constitute a threat to national and regional security, posing the risk of accidental explosions or of falling into the wrong hands. 
Tajikistan is also contaminated by other forms of soil and water pollution dating back to the Soviet era. In 1950–60, pesticides, known as persistent organic pollutants (POPs), were largely distributed in the country, almost for free, to increase agricultural production. The collapse of the Soviet Union saw numerous stockpiles of these pesticides abandoned in the country.
Since then, such obsolete POPs, notably Dichlorodiphenyltrichloroethane, commonly known as DDT, have started to infiltrate the environment and the food chain. Long-term exposure to such organic persistent pollutants has been linked to a series of negative impacts on health, from effects on the nervous, immune, reproductive and endocrine systems to various types of birth defects and cancers. 
While the Tajik government is aware of the risks of such substances on health, the environment and the economy, it lacks the complete legal, financial and institutional resources to solve the problem. 
When it rains or snows, the soil turns yellow and the smell is unbearable.
Salmanjoon
An inhabitant of Oykamar, a village contaminated by toxic pesticides.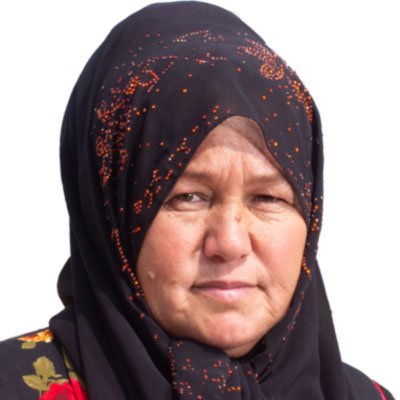 The FSD presence in Tajikistan dates back to 2003, when the Foundation carried out a mine action programme. In 2018, a lack of funding meant that demining operations in Tajikistan were suspended but will restart in the summer of 2023.  
In parallel, in 2009, FSD launched a stockpile disposal programme to contribute to national and regional security. Since 2022, this project has included a wider distribution of locations, notably in the Tajikistan-Uzbekistan border region in the west of the country, as better relationships were developed between the two countries. 
In 2016, FSD initiated a third project: the remediation of areas contaminated by toxic pesticides left behind from the Soviet era. To address the contamination, FSD excavated soil from contaminated areas and transported it to a safe storage location in Vakhsh, which is far from residential areas and water sources. In parallel, FSD teams carried out risk education campaigns in villages across Tajikistan that are considered at the highest risk from POP contamination. 
The subsequent plan, in partnership with the United Nations Environment Programme, involves utilising advanced thermal technologies to treat the contaminated soil to eliminate all POPs effectively. This action aligns with Tajikistan's pledge to the Stockholm Convention. 
In addition, FSD planted thousands of trees to strengthen soil stability and for phytoremediation purposes around Vakhsh, rehabilitated an irrigation pump supplying three towns, built a community greenhouse and is mentoring over 40 local residents on sustainable crop and vegetable production. 
FSD's obsolete weapons disposal project in Tajikistan is supported by the US State Department. Environmental support activities in the country are funded by the GEF, the Swiss Agency for Development and Cooperation and private foundations.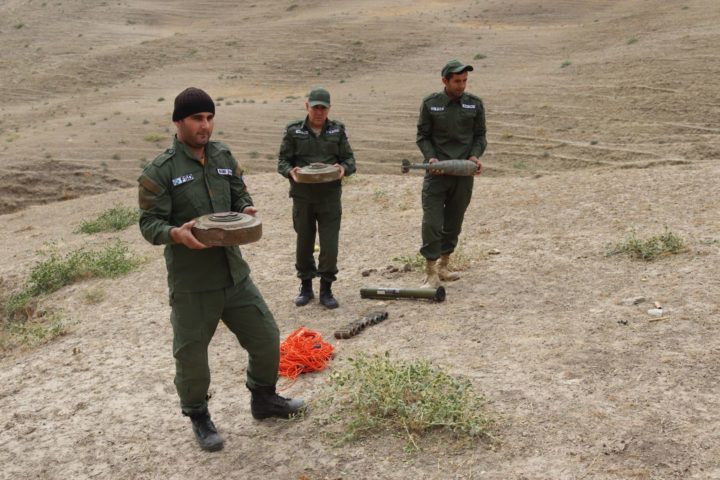 7421 ITEMS SUCCESSFULLY DESTROYED 💥
In 2022, 7421 items of various ammunition natures like these were destroyed in Tajikistan.
Entrusted to FSD by the Tajik authorities, these expired or obsolete items are safely destroyed by […]
GREENHOUSES FOR COMMUNITIES 🌱
The greenhouses built by our team in Tajikistan are ready to house their first seedlings! These greenhouses will be made available to local communities with technical support from FSD […]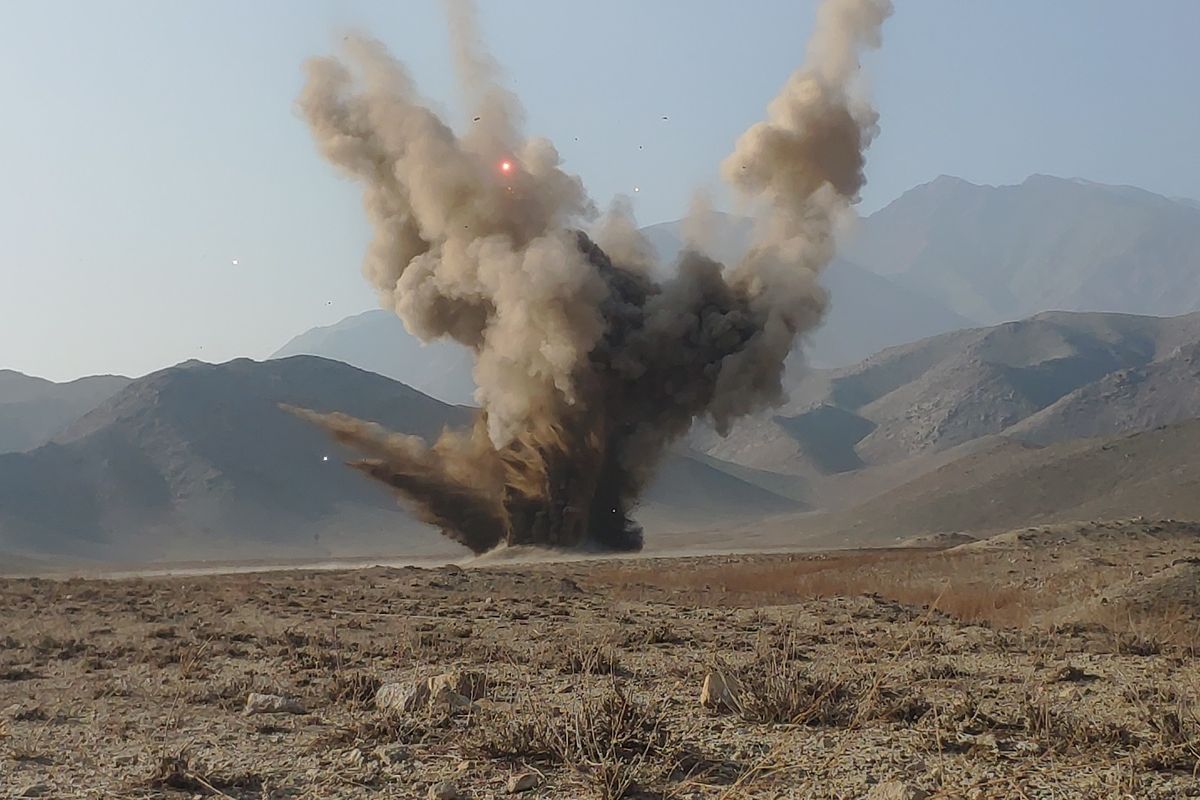 Weapons and ammunition destruction
How do we destroy obsolete weapons and ammunition found in Tajikistan? :
➡️ Incineration, for small arms ammunition and pyrotechnics
➡️ Controlled explosion, for larger weapons […]
CENTIMETRE after CENTIMETRE
In 202

2

,

FSD built one

community

greenhouse

and

mentor

ed

over 40 local

residents

on

sustainable

crop

production

in an effort to

reduce food insecurity.

 
Where is FSD currently working in Ukraine? What does a landmine look like? Answers to your questions, once a month.
News from the field
Demining videos
Interviews with experts
Events
Job offers