FSD's programme in Ukraine started in 2015. Our team has expanded to meet the considerable needs of the ongoing war. Since August 2022, our deminers have been locating and clearing mines and explosive remnants of war in several provinces.

These deminers are inspecting a field in Chernihiv Oblast. (Ukraine, 2022)
New teams deployed to Mykolaiv
Mai 2023 / The fighting in Ukraine has left behind hundreds of thousands of anti-personnel mines, anti-vehicle mines and unexploded or abandoned munitions. Almost a third of the country is contaminated. These dangerous remnants of war not only threaten the lives of civilians, but also obstruct humanitarian efforts, hamper reconstruction and prevent farmers from accessing their fields.
As a response to this acute crisis, FSD set up an additional operational base in Chernihiv and Kharkiv and quadrupled its workforce. In addition, three teams have just been deployed to the southern province of Mykolaiv.
To date, FSD has 8 specialised battlefield clearance teams, 2 clearance teams using specialized machines, 2 teams clearing collapsed buildings using armoured construction machines, 3 non-technical survey teams and 4 explosive ordnance risk education teams. 
In total, more than 200 FSD staff are working in the provinces of Kyiv (administrative office), Chernihiv, Kharkiv and Mikolaiv.
Furthermore, a new significant partnership has been established with the United Nations World Food Programme and the Food and Agriculture Organisation. The objective is to demine agricultural areas in the province of Kharkiv focusing on small farmers. To this end, ten extra teams will be recruited and dispatched in late spring 2023.
Since April 2023, FSD has been providing technical assistance to the Ukrainian State Emergency Service (SESU) in the deployment and use of eight demining machines recently received by Ukraine.
I found a big pile of explosives near a village. I'm happy FSD found them and not the local children because, at first glance, it doesn't look dangerous at all.
Nadiya Kudriavtseva
Ukrainian FSD deminer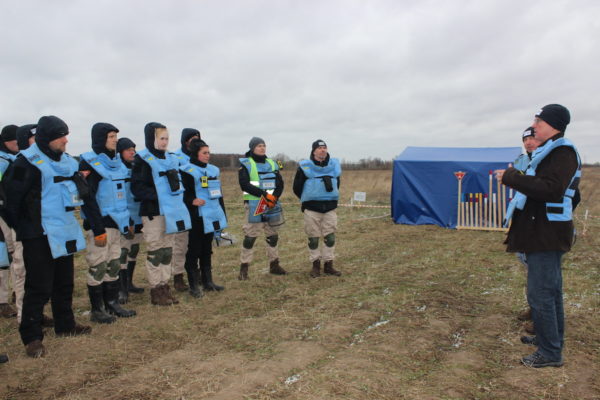 Our operations in Ukraine – June 2023
As of 1st June 2023, more than 130 FSD staff members are at work in the provinces of Chernihiv, Kharkiv and Mykolaiv. The teams conduct surveys, clearance of minefields and carry out risk education sessions. Download the PDF to get more details.
Help us prevent mine accidents
The ongoing conflict in Ukraine is littering cities and farmland with massive amounts of unexploded ordnance. Every contribution, regardless of the amount, helps us rid the country of these lethal remnants of war.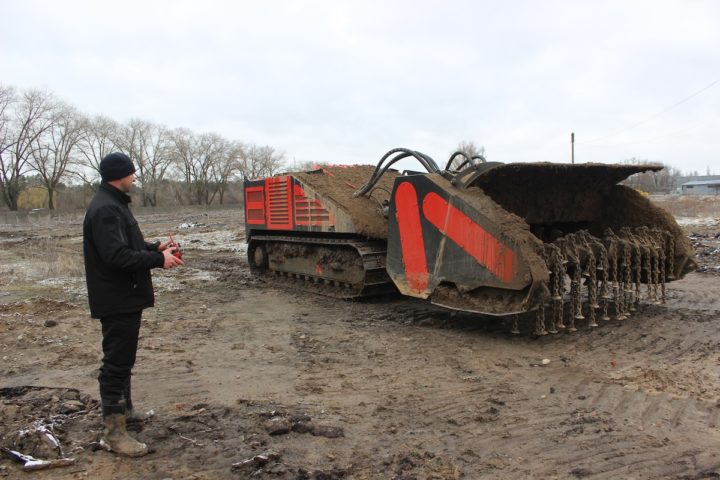 ONE MORE STEP FoR MECHANICAL CLEARANCE
After the training of our mechanical team on the MV-4 ground preparation machine in Ukraine, our staff are now getting ready to use the MV-10, a much larger sized machine which recently […]
FSD's involvement in Ukraine dates back to the beginning of 2015, in the Donbass region. The aim was to minimise civilian casualties by teaching people to "live with" mines and unexploded ordnance in relative safety until all contaminated areas are cleared.
In 2017, FSD began a demining programme to locate and destroy explosive devices in the same Region.
In late 2019, a project was launched to increase access to education in conflict areas. When FSD staff visited schools and kindergartens for their mine risk education missions, they saw the extent of destruction of schools and the devastating impact of the conflict on the daily lives of children.
In 2022, as the fighting intensified and spread throughout the country, FSD's activities were reoriented to provide emergency humanitarian aid (food, shelter, medicines, fuel, etc.).
As soon as the security situation allowed, demining and risk education were resumed.
To date, FSD is active in the provinces of Chenihiv, Kharkiv and Mykolaiv, quadrupled its workforce and acquired specialised machinery to maximise its impact in the face of the scale of the contamination.
Furthermore, a major partnership with the United Nations (WFP/FAO) has been established to clear small-scale farms of mines.
FSD's Ukraine programme is funded by the US State Department, the Ukraine Humanitarian Fund, Swiss Solidarity, the Swiss Federal Department of Foreign Affairs and several private foundations, Swiss cantons and municipalities.
Centimetres after centimentres
In 202

2

,

more than

1

000

risk

education

sessions

were

delivered

in affected communities.

This is despite

the sometimes extreme working

conditions.

 
Where is FSD currently working in Ukraine? What does a landmine look like? Answers to your questions, once a month.
News from the field
Demining videos
Interviews with experts
Events
Job offers