In Iraq, FSD locates and neutralises improvised mines in areas previously occupied and mined by the Islamic State. In addition, FSD reinforces the capacities of the national authorities.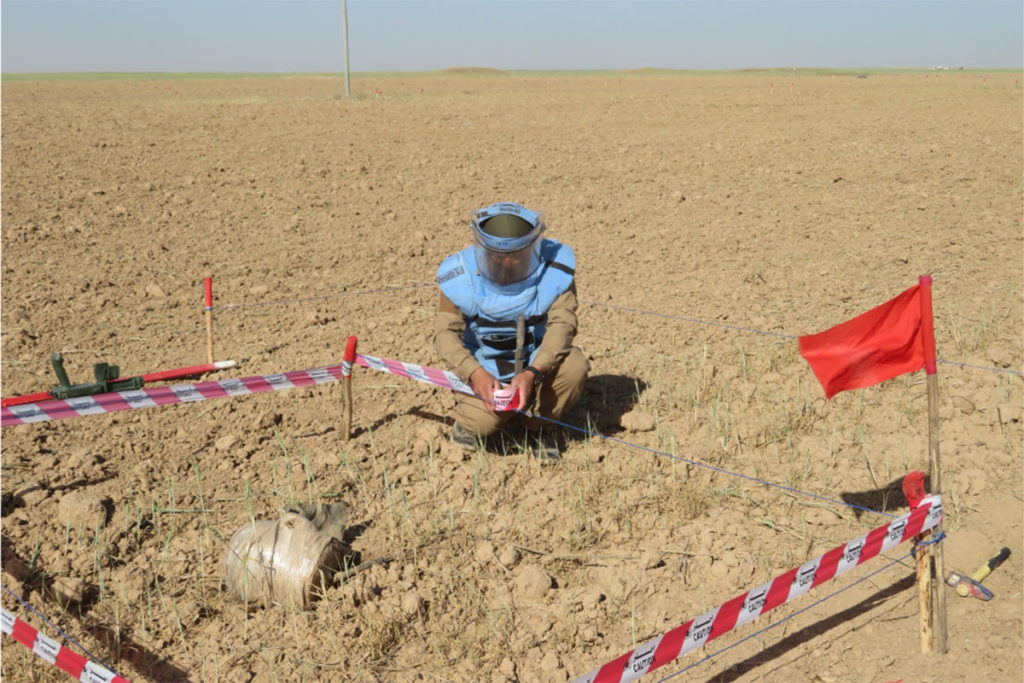 This deminer marks the location of an improvised mine, which will then be neutralised and destroyed. (Iraq, 2021)
By the end of 2017, the war against the Islamic State was officially over; the jihadist group had been driven out of all the areas it had occupied since 2014. For the Iraqi population however, this did not imply an immediate return to a normal life.
Many villages are still littered with explosive devices laid by the jihadist group on roads, in fields, homes and schools. Inside buildings, these so-called improvised mines are sometimes hidden under furniture, in televisions or refrigerators, in doorways and windows.
In addition to these deadly devices, dangerous pieces of unexploded or abandoned explosive ordnance are scattered across former battlefields.
It is essential to clear contaminated villages and agricultural areas as soon as possible, and to train Iraqi national organisations in mine action. Only then can people safely to return to their homes, cultivate their lands and send their children to school.
Now the village is cleared and people are no longer afraid to come back and rebuild their homes.
Abd Al-Ghafoor Mohammed Attan
Muhktar (Mayor) of Karmardi village
FSD began working in Iraq in 2016, when ISIS forces still occupied part of the country. It deployed several demining teams, notably in the Gouvernorates of Kirkuk, Erbil and Nineveh, with support from the United States Department of State, the United Nations, the city of Geneva and other donors.
Demining operations in Iraq are delicate for deminers: explosive devices abound, and the fact that they are improvised makes it challenging to neutralise them. Each device encountered is likely to differ from others and requires special handling. For example, some may include hidden or multiple activation switches.
The environment represents an additional challenge for deminers as well as for FSD risk education experts and survey teams who work in the north of the country.
Temperatures of around 40°C for a good half of the year harden and dry the soil. This makes it difficult to carry out demining operations. Our teams often use mechanical means to excavate explosive devices.
Security also remains extremely fragile, and the level of destruction caused by combats means that little exists by way of infrastructure to host FSD teams close to minefields.
The day-to-day life of a deminer
📹 "When I applied for this job, I didn't tell anyone" Asmaa Khalil, leader of an all-female FSD demining team in Iraq, proudly relates her daily life as a deminer.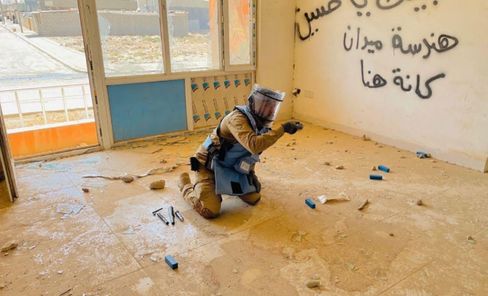 Building local capacities
"Four accidental explosions have been recorded in the village. One person was killed and three were injured. In March 2022, deminers from our local national partner, SHO, secured the locality" […]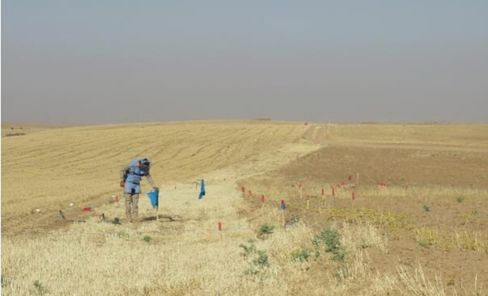 A blue flag = a neutralised explosive hazard!
Since the beginning of our programme in Iraq, our deminers have planted more than 18,000 flags like this, for as many potential accidents avoided. […]
CENTIMETRE after CENTIMETRE
In 2022, our deminers cleared an area equivalent to 4'000 Olympic swimming pools. The work required constant concentration, even under working conditions that were at times extreme.
Where is FSD currently working in Ukraine? What does a landmine look like? Answers to your questions, once a month.
News from the field
Demining videos
Interviews with experts
Events
Job offers