In Ukraine, in March 2023 alone, more than 100 civilians were killed or maimed by mines and explosive ordnance.
With the arrival of a warmer weather, the number of accidents is likely to increase. FSD has drastically increased its staff and expanded its area of intervention to reduce the risks for the affected populations and enable agriculture to resume. Teams are currently deployed in the provinces of Chernihiv, Kharkiv and Mykolaiv.
The International Day for Mine Awareness and Assistance in Mine Action on 4 April 2023 is an opportunity to remind ourselves of the urgency of mine clearance, in Ukraine and elsewhere.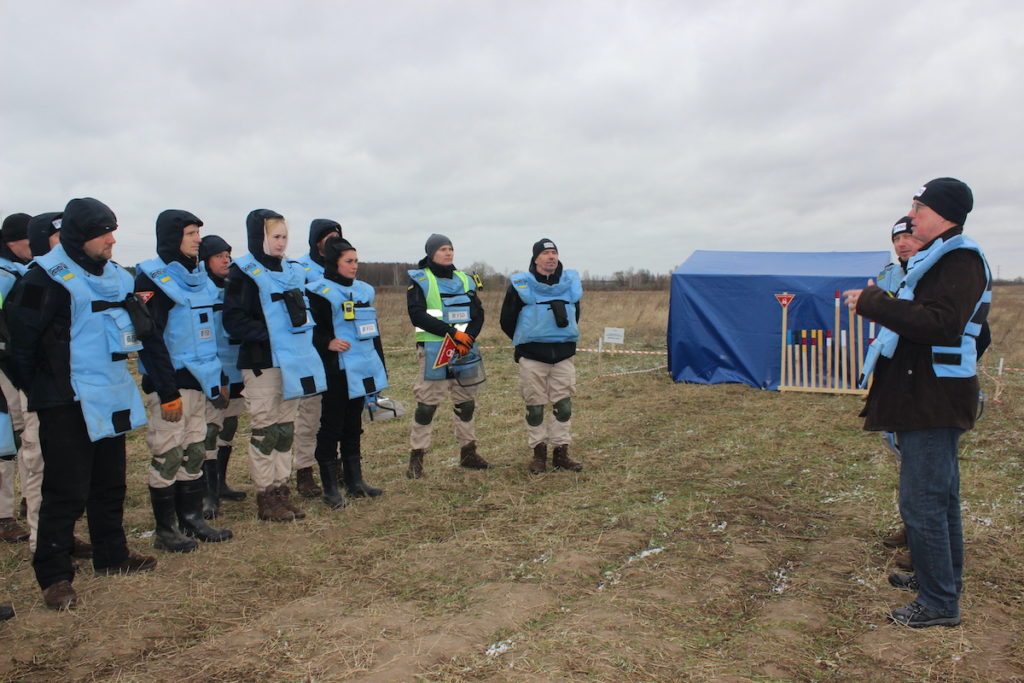 Morning briefing of a demining team in Chernihiv province, late March 2023.
"When it comes to mine and explosive remnants of war accidents, the return of spring is often deadly," warns Hansjörg Eberle, FSD's Director. In Ukraine, with one third of the country contaminated, the resumption of outdoor activities such as hiking and picnicking could result in many victims. "In addition, the warmer weather is seeing an increase in the number of displaced people returning to their villages, who are not familiar with the dangerous areas and the type of explosive devices in their home villages, and are therefore more at risk."
To avoid putting themselves at risk, FSD survey teams sometimes examine potentially contaminated areas from a distance.
In addition, each passing day increases the challenge of demining: vegetation grows, covering mines, shells, cluster bombs and other explosive devices, making them more difficult for deminers to locate. "A metal detector only achieves the depth of detection if it is used at less than five centimetres from the ground, says Alex van Roy, FSD's Deputy Head of Operations. Therefore, you have to cut the grass and trim the bushes very carefully before you can start demining; it's a lot of work when summer comes and the vegetation becomes very dense and grows beyond hip height."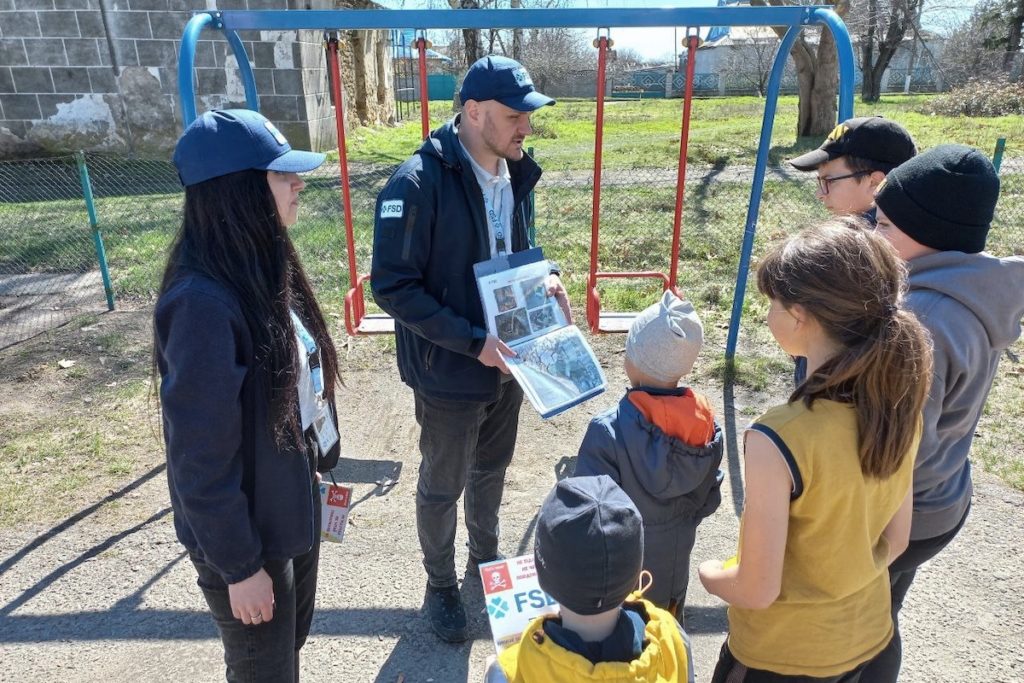 With spring and the resumption of outdoor activities, the risk increases for affected populations, especially children.
Mine Awareness Day is also an opportunity to remind people that, despite its name, mine action is not just about mines. Anti-personnel landmines are extremely dangerous weapons for civilians, but so are the countless pieces of ammunition that do not explode on impact as intended and can then be detonated by the slightest contact.
"Bombs, shells, rockets and other munitions already leave the factory with an expected failure rate of one percent or less, depending on their type. Imagine now that these munitions are sometimes stored for decades before being used, transported hundreds of kilometres and stored in the rain or snow for days before being fired, explains Alex van Roy. This easily leads to a failure rate of 10% or more, depending on the type of terrain. In soft, fertile soils like those found in Ukraine, it is even more common for munitions to fail to detonate on impact."
During an FSD risk education session, a little girl learns to spot explosive devices hidden in a landscape.
FSD currently has around 100 staff working in the provinces of Chernihiv, Kharkiv and Mykolaiv. Since February 2022, more than 1,200 explosive devices have been located by our teams and nearly 60,000 people have participated in our mine risk education sessions.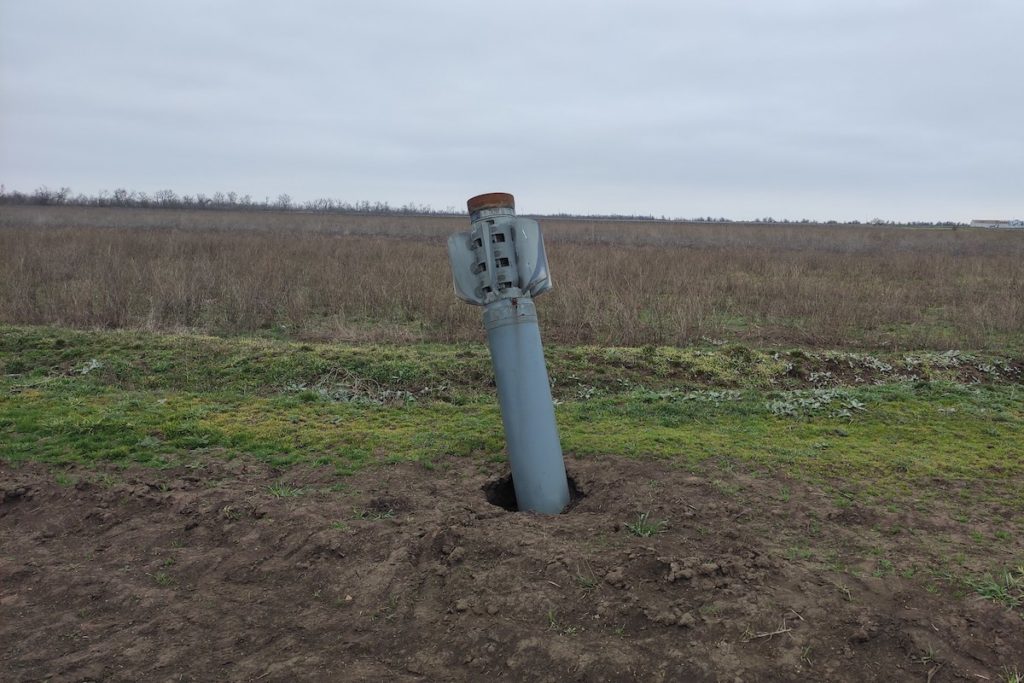 Two or three days of effort will be needed for the deminers to thoroughly excavate this Smerch rocket.
"Contamination in Ukraine is a huge challenge because of its scale and the variety of explosive devices used. But let's not forget that mines and unexploded ordnance are a permanent threat to the population in more than 60 other countries as well," says Hansjörg Eberle.