Do you know the language of mine action?
Do you know anything about bounding fragmentation mines, non-technical surveys and tripwires detector? Test your knowledge by answering these 10 questions!
Get more information on Mine Action!
A new tool for mine detection?
🛰️ The science programme Nano (SRF/3SAT) explains how high-tech drones are being developed to search for explosive devices and how they can be used to facilitate humanitarian demining operations.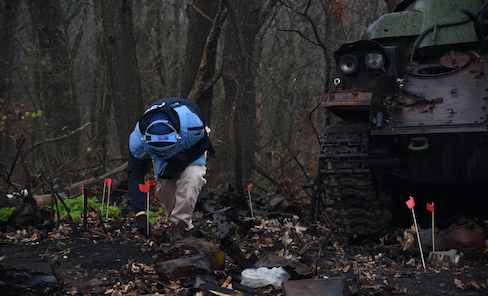 🔻 Ukraine: news from the field
While the situation remains tense, hundreds of mines and unexploded ordnance have already been neutralized by FSD teams. Our deminers have been present in Chernihiv province for five months now. They are now also deployed in Kharkiv province, in Izium, a city that was occupied for several months.
Where is FSD currently working in Ukraine? What does a landmine look like? Answers to your questions, once a month.
News from the field
Demining videos
Interviews with experts
Events
Job offers