In eastern Ukraine, the poverty caused by the armed conflict has led many people to collect and sell scrap metal to earn a little more money. This is a risky activity, which exposes them to landmines and unexploded ordnance.
One day someone brought me an old bucket full of scrap metal," says Vladimir, owner of a metal collection centre in Donetsk province. When I emptied it, I found machine gun ammunition in it.
Like most scrap metal dealers, Vladimir refuses to accept the remains of military equipment. Despite this, he regularly finds mine or shell fragments hidden in the piles of scrap metal brought to him. " We buy them by weight, and these items add a few kilos, so a little extra money for the collectors… People around here are so desperate that they take such risks."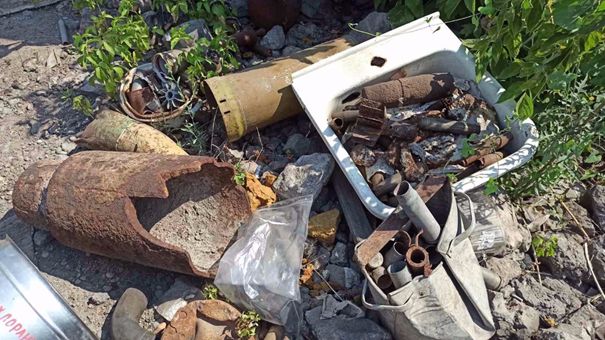 As the armed conflict in Donbass enters its eighth year, it has triggered a serious humanitarian crisis, worsened by Covid-19. While part of the population has fled, hundreds of thousands of people who cannot afford to leave, or have nowhere to go, still live along the front line.
There are not many jobs in the area and people have to make do to survive. Many people have started collecting scrap metal and selling it to scrap dealers. Their quest for scrap metal leads them to places that are potentially mined or littered with the remnants of explosive devices: destroyed and abandoned buildings, forests, former military positions… Others go as far as the vicinity of combat zones or the front lines.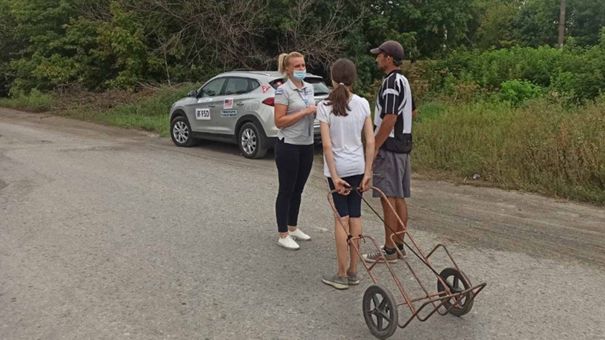 Throughout the summer of 2021, with the support of the association GGL Austria (Together against landmines) an FSD team visited 60 scrap metal collection centres to raise awareness of the issue among staff and "collectors". Nearly 2,500 people attended these prevention sessions and are now aware of the steps to take to minimise the risks they face.
FSD team also carried out awareness sessions in employment centres in the region to prevent people looking for work to be tempted to collect scrap metal and put themselves at risk.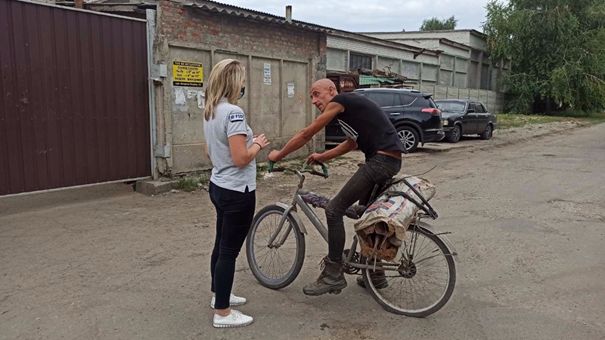 During a risk education session at a scrap metal collection centre in Volnovakha, we met two young boys who brought an old kettle and other broken objects," says Liudmila, head of the FSD risk education team. We showed them pictures to teach them how to recognise explosive devices and potentially contaminated areas, and explained to them what to do if they found such an object.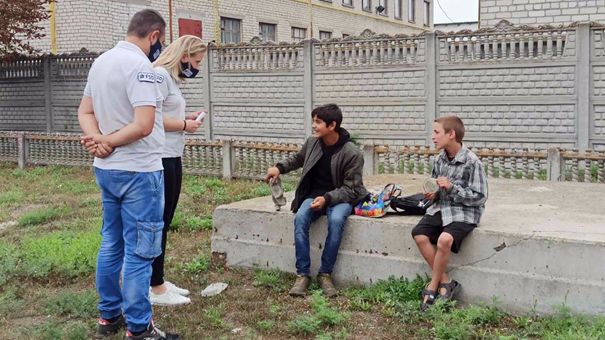 FSD currently seeks funds to continue this mission in the 280 scrap metal collection centres in Donetsk and Luhansk provinces not yet visited. Billboards with images of the different explosive devices in the region with recommended behaviour, will also be installed.
The long winter period is still limiting employment opportunities while expenses are increasing. The need to engage in secondary activities such as scrap metal collection will be even more essential for families, who need to buy charcoal or firewood in order to stay warm until the spring.
As the armed conflict in the Donbass drags on, mine and explosive hazard awareness is more vital than ever to prevent accidents and save lives.